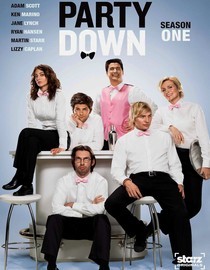 I have a harder time connecting with comedy shows than with one-hour serials, probably because so many comedies, well, suck.  So my recent, accidental discovery of  Party Down — easily my favorite comedy since Arrested Development — comes as a very nice surprise.  We recently streamed the first ten episodes on Netflix, and blazed right through them.  I highly recommend it.
A workplace comedy where the workplace changes every episode, Party Down is about a Hollywood catering company populated by aspiring and/or lapsed entertainment industry hopefuls.  The sorta-protagonist is  Henry (Adam Scott), who returns to the catering gig after an eight-year acting struggle that never managed to surpass a popular commercial catchphrase.  He meets and quickly falls for aspiring stand-up comic Casey (Lizzy Caplan).  Also on the team are naively confident model-actor Kyle (Ryan Hansen), fading B-movie starlet Constance (Jane Lynch), and misanthropic science fiction screenwriter Roman (Martin Starr).  Wrangling these easily distracted artistes is team leader Ron Donald (Ken Marino), the only one without Hollywood aspirations — not that he doesn't have dreams of his own.  Each episode takes the group to a new venue, where colorful clients (and a veritable parade of memorably funny guest performers) create  increasingly awkward and zany situations for the caterers to navigate.
Quick, smart, and witty, with a highly improvised feel, Party Down is a descendant of the Arrested Development / The Office / Extras school of awkward situation comedies, with an appropriate semi-focus on appalling, self-interested behavior.  Fortunately, the characters are basically good-hearted, so there's a welcome touch of sweetness and hope underlying their profane histrionics.  It's a winning combination of sympathetic characters and edgy material, cemented by the convincing relationship between Henry and Casey (think Tim and Dawn on the original The Office).  Scott and Caplan center the show nicely, easily overlooked in the early-going but clearly crucial to the cast's instant chemistry.  Jane Lynch is a riot, as usual, as a cluelessly unwise actress who's been around the block — I prefer her here to her role on Glee, which I worry may have stolen her away.  As Kyle, Hansen upgrades on the rich California dickhead he portrayed so effectively on Veronica Mars, while Starr brings convincing skiffy abrasiveness to the largely irredeemable Roman.  But in a lot of ways, the show belongs to Ken Marino, who is pure brilliance as the tragically optimistic Ron.  All the characters, even in their more spiteful moments, manage to be likeable, and you find yourself rooting for them in the face of their inevitable disappointments, and cheering their small victories.   Good, funny stuff throughout, and I hope this series lasts — I'm looking forward to more.
Related Posts: