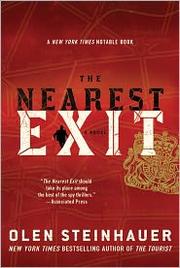 Olen Steinhauer's first Milo Weaver novel, The Tourist, impressed me with its dense plot and smooth-flowing narrative.  But its sequel, The Nearest Exit (2010), is even better, boasting the same ingenius plotting and compelling prose, but rising to another level in terms of its human story, with a noticeably stronger focus on character.
As the novel begins, Weaver is back in the fold at the Department of Tourism, performing black ops assignments all across Europe for his shady overseers.  But his return to full duty is at the expense of his marriage, and this time he has a secret agenda.  After a number of softball assignments, Weaver finally receives an order his conscience won't permit him to carry out:  the murder of an innocent, fifteen-year-old Moldovan girl.  This motivates him to go his own way, setting in motion a chain of events filled with peril as he negotiates a thorny political labyrinth of alliances and rivalries in the international intelligence world.
The Nearest Exit, the middle book of a trilogy, shares all the strengths of its predecessor, but also builds on them.  Weaver's personality is explored in new ways, and he becomes an even more impressive and likeable hero, while a wave of great supporting characters add new layers of interest.  (I could easily see one of them — the obese, bookish German intelligence officer Erika Schwartz — headlining her own book.)  As usual with Steinhauer, the plot is the star, and The Nearest Exit's is thrillingly complex and satisfying, with layer upon layer of intricate deception and mystery.  But the structure, impressive on its own, shines all the more as a showcase for well played interactions between memorable characters.  This is exceptionally executed spy fiction, and I can't wait for the next installment.
Related Posts: