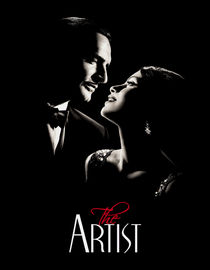 The Artist (2011) is a very good movie, elevated to an Academy Award by voters who love movies, make movies, and love movies about making movies. Which is my way of saying this is an overrated movie. But I  enjoyed it!
Jean Dujardin stars as silent film star George Valentin, a strapping, old school adventure hero who rules Hollywood in the late 1920s. During a movie premiere, Valentin has a clumsy meet-cute with aspiring actress Peppy Miller (Bérénice Bejo), which proves to be a turning point for both of them. As the rise of the "talkies" propels Peppy to new heights of stardom, Valentin's star takes a precipitous fall. Can the star-crossed lovers find each other despite their vastly different career trajectories?
It's a simple story effectively executed, and an occasionally moving celebration of film and film-making techniques, filled with nods and winks to many classic directors. Dujardin and Bejo rekindle the screen chemistry they shared in OSS 117: Cairo, Nest of Spies, and they're both perfectly cast: Dujardin as the dashing silent film hero, Bejo as the skyrocketing Hollywood ingenue. It's romantic, nostalgic, and funny. But it's also a curious watch, uneven at times, with slow stretches and obvious moments. It struck me as a lovingly rendered exercise, attractive and classy, and memorable in its way, but ultimately simple and unsurprising.