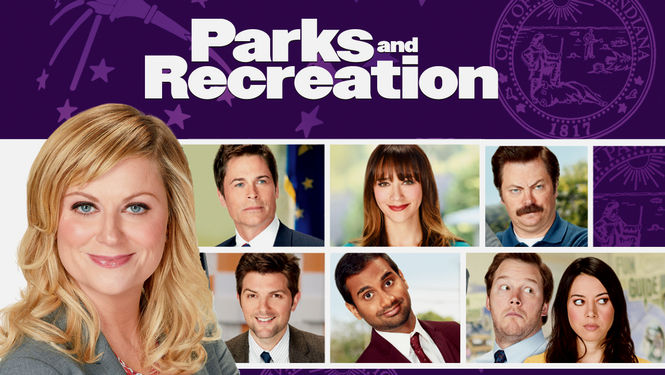 How refreshing it is to get hooked on a high-quality comedy series that's still around to be supported! Parks and Recreation, after a slow start, ramps up quickly in its second year, and it's become one of my favorite comedies, joining Arrested Development and Party Down on a very short list.
The show stars Amy Poehler as Leslie Knope, the energetic, can-do Deputy Director of the Parks and Recreation department of a small Indiana town called Pawnee. The red tape and hopeless bureaucracy of local government, happily encouraged by Leslie's comically libertarian boss Ron Swanson (Nick Offerman), never gets Leslie down. Her efforts to help the community start small, with a simple project to turn an abandoned condo development into a park. But as the series progresses her ambitions grow, as do her relationships with her colleagues and friends in the government.
The show's short first season struggles to find its footing, effectively aping the mockumentary format popularized by the original The Office – filled with awkward silences and schadenfreude. But it comes into its own in season two, when it starts to set itself apart as a more upbeat show, building an amusing and inspiring created family from its talented cast. Offerman's laconic, carnivorous Ron Swanson is a standout, but there really are no weak links in the cast. As Leslie's best friend Ann Perkins, Rashida Jones provides great straight-woman timing for Poehler. Aziz Ansari's fast-talking, big-dreaming administrator Tom Haverford is utterly one-of-a-kind, while Aubrey Plaza provides disaffected misanthropy as intern April Ludgate. Easily the biggest scene stealer, though, is Chris Pratt, who plays lovable bozo Andy Dwyer; Pratt is a riot, and one of the most talented physical comedians I've ever seen. They're all great characters, flawed and prone to mistakes, but each likeable in their way.  Refreshingly, they aren't always ripping on each other in the style of so many sitcoms. They have conflicts and disagreements, but in the end they're family, working in one direction, redeeming their more selfish moments with friendship.
When the well performed but awkwardly conceived character of Mark Brendanawicz (Paul Schneider) leaves at the end of season two, the cast is strengthened further with the arrival of Rob Lowe and Adam Scott, Lowe as a hopelessly optimistic city manager, Scott as a nerdy, skeptical love interest for Leslie. Both are perfect additions, filling out the cast brilliantly: Lowe with rapid-fire deliveries and zany energy, Scott with impeccable straight-man timing.
Watching Parks and Recreation's slow-building synergy has been a real joy, from its quirky first steps to its increasingly assured chemistry, which combines extreme silliness with incisive commentary, clever dialogue, memorable people, and surprising, genuine heart. Catch up on this one and boost its ratings while it's still around!