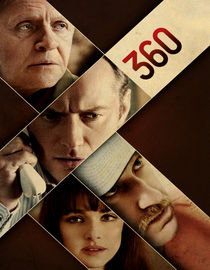 360 (2011) is one of those arty, episodic films that interlaces numerous short stories into a globe-spanning mosaic. I like this kind of thing when it's done well, or at least find it diverting, and that's a pretty good nutshell description of my reaction to this one: a diverting film, although I'm not sure it added up to much.
Starting in Vienna, the story ricochets from character to character, all the way around the world: from the early days in the career of a young prostitute (Lucia Siposová), to her ashamed first john (Jude Law), to the john's cheating spouse (Rachel Weisz), and so on. The individual tales, which generally involve characters making tough decisions about their relationships, follow the players from eastern Europe to England to the United States and beyond, ultimately bringing things full circle back to Vienna, where the most drastic life decisions impact the prostitute's young sister (Gabriela Marcinkova) when she connects with a downtrodden Russian bodyguard (Vladimir Vdovichenkov).
It's an ambitious filmic project, but a bit difficult to see as more than a formal exercise. Unfortunately, for all its around-the-world aspirations, it doesn't cover all that much territory.  I'm also not sure there's much of a cumulative thematic effect. But there are good moments, including a particularly touching performance from Anthony Hopkins. Not a perfect example of this kind of international mosaic film, but not bad.