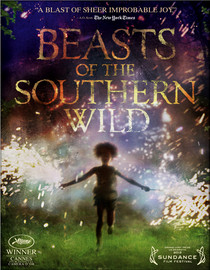 I'm still trying to wrap my mind around Beasts of the Southern Wild (2012), but so far I'm certain of two things: that I've never seen anything quite like it, and that it's amazing.
Set in an impoverished bayou community on the Louisiana coast, the story follows the personal journey of Hushpuppy (the remarkable Quvenzhané Wallis), a young girl who has a complicated, unusual relationship with her neglectful, alcoholic father Wink (Dwight Henry). Together, they live in the ramshackle town of Bathtub, out beyond the levies protecting the big city. Bathtub maintains its tenuous existence at the mercy of the weather, but its luck is about to run out: an enormous storm is on its way, threatening to inundate the town. The storm brings the family together, but it's not the only trouble Hushpuppy must face; there are more personal disasters on the horizon.
I went into this one with no foreknowledge, and I'm glad of that. Beasts of the Southern Wild is a genuine art film, painting a singular picture that's wide open to interpretation. The film I watched was a peculiar blend of allegorical and mundane SF, presenting a cautionary environmental message through its human story; Jenn saw it as a magic realist coming-of-age story about facing the inevitabilities of life and death. I prefer the latter interpretation, but I think both films are there, and more; the film is richly thought-provoking, raising all sorts of questions about our relationship with the planet, with nature, and with each other. Both Wallis and Henry deliver intense, authentic performances at the heart of the story, which for all its bleak scenery just sings with empowering energy. Some unforgettable imagery here, too. An amazing film.