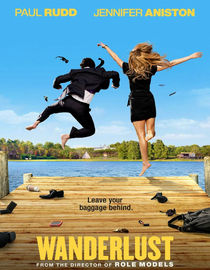 I put Wanderlust (2012) on for background noise while I was eating lunch the other day, and unexpectedly ended up watching it through. I must have missed that The State co-stars Ken Marino and David Wain were behind this one, or it probably would have been on my radar sooner. Bolstered by an excellent, talented cast, it's a predictable but energetic and funny movie.
Paul Rudd and Jennifer Aniston star as George and Linda Gergenblatt, an upwardly mobile New York couple whose lifestyle implodes when George is laid off and Linda's documentary project falls apart. The two of them head south in search of work with George's asshole brother Rick (Marino), but on the way they stay the night at a Woodstocky commune in the wilds of Georgia. There, under the leadership of bohemian guru Seth (Justin Theroux), the commune's members gradually lure George and Linda into their lifestyle, which they eventually embrace…but not without the expected challenges to their relationship.
There's nothing particularly surprising about the plot of Wanderlust, which has a fairly formulaic script and takes easy shots at hippy-dippy tropes. But it's quite well executed, relying on the perfect comic timing of its cast to carry off its clever humor. Aniston and especially Rudd make for spirited protagonists, while the supporting cast is a who's-who of great comedic talent. Alan Alda, Malin Akerman, Lauren Ambrose, Kathryn Hahn, Kerri Kenney-Silver, Joe Lo Truglio, Marino, Jordan Peele, and Michaela Watkins all contribute funny, well rendered side characters. An entertaining, amiable romp.