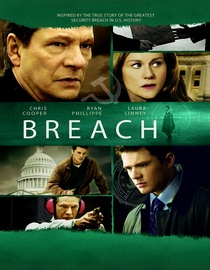 I watched Breach (2007) before beginning the Spy 100 Project, and loved it. I was curious to see if my appreciation would be dulled at all by the dozens of genre films I've seen since then, but if anything, I loved it even more.
Less an action-adventure spy yarn than an incisive character study, Breach depicts the career demise of notorious FBI traitor Robert Hansen (Chris Cooper), through the eyes of the ambitious young agent who helped bring him down, Eric O'Neill (Ryan Phillipe). While it has its suspenseful set-pieces, this one is more about intrigue and character than action. The script unspools its mysteries neatly, but the film's most interesting aspect is its probing of the psychology of Hansen, and how that impacts O'Neill.
I have little to add from my previous review, except to reiterate that Cooper is brilliant in the lead role, Phillipe and Laura Linney are also excellent, and the production is assured and compelling — at least for fans, like me, of the subtle political paranoia of the intelligence world. I found it well worth re-watching, and probably would rank it higher on the list. Excellent.