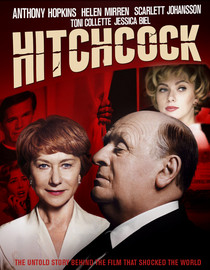 Like the highly similar HBO film The Girl — a project I'm finding it hard not to compare this to — Hitchcock (2012) is an attempt to both deify and demystify the Master of Suspense, whose huge body of work still influences Hollywood. It's also, like The Girl, a justified feminist critique of the man and his treatment of the women around him. But for all the focus on Alfred Hitchcock, the film feels mistitled to me; it's at least as much about his wife Alma Reville, his unsung lifelong collaborator. In the interest of giving the film a Hollywood shape, this treatment of their relationship feels sanitized, but it's still an interesting glimpse of their working dynamic and their home life, set during the pinnacle of Hitchcock's career.
On the heels of his brilliant comic spy film North by Northwest, Hitchcock (Anthony Hopkins) is the king of Hollywood. But for his next project, he wants to tackle something different: the horror genre. Despite his stature in the industry, his new project Psycho meets with all sorts of skepticism and resistance, particularly from the studios and censors. His wife Alma (Helen Mirren) shares these reservations initially, but once Hitchcock commits to the film, she throws herself behind it, even when the couple has to mortgage their home to self-finance the picture. It's a do-or-die moment for the Hitchcocks, and it takes its emotional toll on them…especially when Alma's side collaboration with too-friendly writer Whitfield Cook (Danny Huston) puts an added strain on the marriage.
As a long-time fan of Hitchcock's films, I found a lot to enjoy here, particularly in its depiction of the filmmaking era. There's convincing backstage detail to the Psycho scenes, and film history buffs will enjoys seeing legendary actors and other Hollywood figures brought to life. Particularly impressive on this score is James D'Arcy, who does an uncanny rendition of Anthony Perkins. Scarlett Johansson is also quite good as Janet Leigh, relying more on mannerism than resemblance. In fact, generally Hitchcock doesn't do as well with physical casting as The Girl does, but Hitchcock's players seem far more engaged and emotionally accessible.
The film lives or dies, however, on the performances of Hopkins and Mirren, and fortunately they're both terrifc. Not so much in terms of look; Hopkins in particular is odd physical casting behind his weird prosthetics, and brings perhaps too much energy to the part. On the other hand he's more involved, and involving, than Toby Jones' inscrutable (if picture perfect) Hitch. It's Mirren who comes off best, though, in the more heroic role as Hitchcock's beleaguered, talented wife, who spent her entire career unjustly in her husband's shadow. Hitchcock is highly sympathetic to its female figures who suffered under the director's bossy misogyny, and goes out of its way to shine a light on their situation — the cheerful professionalism of Leigh, the dutiful support of Hitchcock's longtime assistant Peggy Robertson (Toni Collette), and the career troubles of Vera Miles (Jessica Biel). But nowhere is their endurance more evident than in the treatment of Alma, who contributed greatly to Hitchcock's  every success without nearly the recognition.
All this said, the script has its drawbacks, chiefly a tendency to be painfully on-the-nose. While this results in a spectacularly delivered, turning point monologue for Mirren, it also brings some obvious moments and unsubtly handled themes. Ultimately, the film overly storybooks the ending, giving the couple a pat Hollywood coming-together moment that doesn't entirely ring true (Hitchcock's subsequent obsession with Tippi Hedren, as depicted in The Girl, rather lays waste to his forgiving character transformation as imagined here.) Still, biopics have to walk a fine line between the boring reality and the storytelling necessity, and I think Hitchcock mostly succeeds, especially for fans of the director's work.