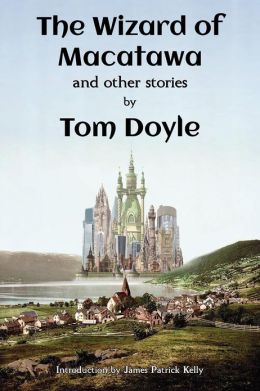 Tom Doyle is one of the few writers whose work I first encountered not in published form, but through the slushpile. We bought a few of his stories for Futurismic back in the day, so it was fun to pick up his recent collection, The Wizard of Macatawa and Other Stories (2012), and revisit those stories, as well as several other memorable tales from an imaginative new writer with a strong voice.
It's a colorful collection, running the gamut from fantasy to slipstream to science fiction. It's bookended by its strongest pieces, I think. The opener, "The Wizard of Macatawa," is a wild, gonzo mix of childhood nostalgia, pop culture, time travel, and alternate history about a foul-mouthed young girl who stumbles across a magical device in a Michigan beach town. The closer, "While Ireland Holds These Graves," is inventive futuristic SF about a man searching for his ex in a world transformed by the rise of nanotechnology and reconstructed AI personalities. These highly satisfying stories show Doyle at his most imaginative and energetic.
Bias noted, of course, my personal favorites are still his Futurismic tales: the wild, angry, vivid, and funny near-future visions of marketing, social media, and brain implants run amok found in "Art's Appreciation," "Consensus Building," and "Hooking Up." Not everyone got what we were going for at Futurismic, but Doyle sure did, and I still find these stories totally exciting, and wicked fun.
Other standouts for me were "Crossing Borders," kinetic otherworldly SF about an intergalactic agent; "The Floating Otherworld," a strange and refreshing contemporary fantasy depicting a man's journey through the night-time streets of Tokyo; and "Sea and Stars," an effectively atmospheric tale of US tourists who witness a magical ceremony in Brazil. A couple of the remaining stories didn't quite connect with me, but overall I think it's a great collection: bracing, imaginative fiction with compelling prose and a distinctive voice. Looking forward to tracking his career.