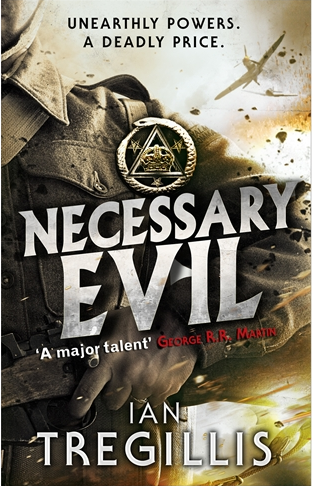 Necessary Evil (2013) concludes Ian Tregillis' dazzling Milkweed Triptych, and I found it every bit as great as the preceding volumes, despite life's every attempt to keep me from reading it. (And there have been a lot, lately!) By the way, this is book three in a series, so: inherent spoiler warning.
Following on the catastrophic events of The Coldest War, Necessary Evil propels us backwards in time and sideways in reality to a parallel World War II, where an older, wiser Raybould Marsh gets a second chance to save the world from the supernatural secret war between German supervillains and British warlocks. It's bad enough that he may or may not be the pawn of the future-seeing sociopath, Gretel, in her devious endgame, but he also has a more recalcitrant opponent: his younger self.
This review will probably be pretty dull, because I have no complaints. Necessary Evil satisfyingly concludes the thrilling build-up of the preceding books, mixing smartly reinvented world history, pyrotechnic superpowered action, slick spy tradecraft, great prose, and an engrossing, ingenious plot. I absolutely loved this series, and Tregillis is an exciting new voice in the genre whose career I really, really look forward to following.