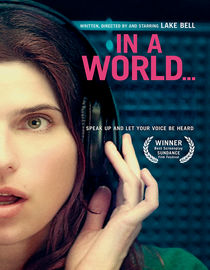 Over the weekend, Jenn and I caught In a World… (2013) at the local Laemmle, and I found it a thoroughly entertaining indie about the trailer voiceover industry. Lake Bell, who also wrote and directed, stars as Carol, a talented but unambitious vocal coach scraping by giving accent lessons to Hollywood actors. When her father, legendary voiceover man Sam (Fred Melamed), finally kicks her out of the nest, Carol is forced to get her career on track. Which happens, unexpectedly quickly, when she stumbles by accident into her first professional voiceover gig. But her good fortune triggers Sam's competitive streak. It turns out he doesn't like his male-dominated industry being challenged by his own daughter, which turns the film industry's search for a new king of epic film trailer voicever work into a contentious family affair.
In a World… is fun, funny stuff, its modest budget and grungy location work serving as an effective window into the mundane, behind-the-scenes world of the entertainment industry. Bell makes for a unique and sympathetic protagonist, and her conflict with Melamed — providing solid paternal villainy — anchors the film nicely. But the supporting cast is also terrific. Michaela Watkins and Rob Corddry (who's never been more likable) have a nicely handled subplot as Carol's sister and brother-in-law. Demetri Martin is winning as Carol's awkward love interest.And there's also great, amusing work from Alexandra Holden, Ken Marino, and Nick Offerman, among others.
So there's a lot to like here: a well structured plot, sharp and witty dialogue, great performances. It entertainingly, unpreachingly confronts Hollywood sexism. The pacing flags a bit here and there, but by and large I really enjoyed this one.