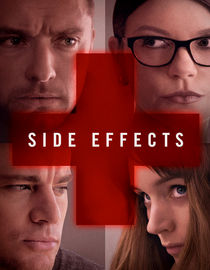 Evidently, Steven Soderbergh has stated that Side Effects (2013) will be his last film, but I hope that's not the case. I don't always love his work, but I always admire his polished craft and classy sensibility. I found this one a thoroughly engaging, if problematic, puzzler.
This twisty psychological thriller stars Rooney Mara as Emily Taylor, a young ad agency employee putting a brave face on the imprisonment of her husband Martin (Channing Tatum), who went away for insider trading. Martin's release should be a joyous occasion, but ends up triggering an intense depression in Emily. An incident lands her in the hospital, which leads to regular treatment from psychiatrist Jonathan Banks (Jude Law), who — to help her cope — prescribes antidepressants. But one of them, a new drug called Ablixa, has pronounced side effects, leading to an unexpected tragedy.
Side Effects' twisty, turny plot provides plenty of compelling intrigue, a Hitchcockian construction of suspense. Mara delivers a riveting performance as the stricken Emily, while Law proves a solid, well cast foil who morphs convincingly into the mystery-solving protagonist. The pace is smooth as silk, and the visual style is effective. Unfortunately — struggling to avoid spoilers here — the gender politics behind the plot machinations are also on the Hitchcockian side, and its deployment of depression as a plot device doesn't really do anyone any favors. When all is revealed, the motives underlying this complex affair are rather thin. In the end, I found it a flawed send-off for the auteur, if also a confidently made and compelling diversion.