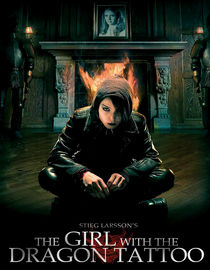 The first film adaptation from Stieg Larsson's dark thriller series, The Girl with the Dragon Tattoo (2009), is taut and grimly compelling, especially during its middle stretches. It opens and closes a bit messily, and it definitely possesses some icky characteristics, but I still found it an effective mystery with memorable heroes.
Reporter Mikael Blomkvist (Mikael Nyquist), on the verge of imprisonment for libel after taking on the wrong megacorporation, accepts one last job before serving his sentence. He's hired by the retired CEO of the Vanger Group, Henrik Vanger (Sven-Bertil Taube), to investigate the 40-year-old disappearance of his beloved grandniece. The suspect list includes any number of relatives who were on the island of Hedestad at the time. It's the coldest of cold cases, but Blomkvist soon gets sucked into the fascinating mystery, uncovering new clues that reveal there's more to the case than a simple disappearance. It isn't until he receives unexpected assistance from a young hacker named Lisbeth Salander (Noomi Rapace) that he truly begins to crack the case, which spans decades and involves the Vangers' dark past during the Nazi collaborationist years in Sweden.
The mystery is compelling, the plot is intricate and well structured, and on the whole it's a well executed affair. Rapace stands out in a steely, riveting performance, while Blomkvist proves to be an earnest, sympathetic hero. That said, the story lurches clumsily into motion in the opening third, lingering on a sickeningly violent subplot involving Lisbeth and her abusive guardian, a sequence that provides character insight but feels disconnected and gratuitous. When Lisbeth does finally come onstage as Mikael's accomplice, the ensuing relationship is convincingly rendered, but reeks of older-man-younger-woman wish fulfillment. It casts a slimy pall over the film, unfortunately. But it's otherwise an accomplished thriller, and I found the lead characters intriguing enough that I'll probably be lured back for the sequels.