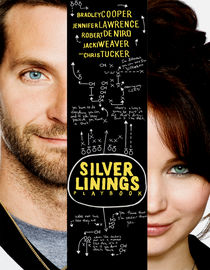 The more I think about this film, the more I dislike it. Silver Linings Playbook (2012) is outwardly impressive-looking, but ultimately leaves a bad taste in the mouth. Pat (Bradley Cooper) is released from a psychiatric hospital after serving eight months for a brutal crime brought on by bipolar disorder, at the time undiagnosed. Released before he's ready, Pat struggles mightily to channel positive thinking as he works his way back into life in a profoundly dysfunctional family headed by superstitious bookmaker Pat Sr. (Robert De Niro). His goal: get his life back on track so he can win back his estranged wife, an impossible goal in light of why he went away. Nonetheless he tries, but flounders mightily until similarly damaged Tiffany (Jennifer Lawrence) comes into his life.
The script provides an acting showcase for its talented cast, particularly Lawrence, who lights up the screen whenever she appears. Cooper is solid as an asshole struggling to redeem himself, while De Niro brings good comedic timing to his role. I also liked much of the supporting cast, which includes Jacki Weaver, Julia Stiles, John Ortiz, and Chris Tucker.
But the acting fireworks are a flashy front for a story that feels by turns cloying, insipid, and shrill. Much of the story hinges on Pat and Tiffany's relationship, but for me the chemistry was off. Pat's never quite likable enough to cheer for, and there's no real reason for Tiffany to go for him beyond his attractive Bradley Cooperness. The script is overly neat and cliched, handling gender, race, and mental illness rather clumsily in standard Hollywood ways. Despite the fine performances, many of the scenes devolve into unpleasant, high-volume squabbling. The talented performers hold the eye well enough, but they're diverting attention from the fact that their supposedly uplifting story is actually kind of toxic.