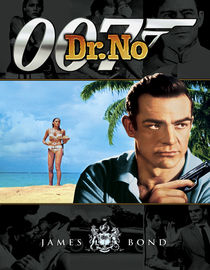 Dr. No (1962) definitely sets the tone for the James Bond series, but compared to what would follow it's practically restrained. It kicks off when a British intelligence agent named Strangways goes missing in Jamaica. MI6 sends in the debonair James Bond (Sean Connery) to find out what happened. Bond is immediately  targeted for assassination, but deftly sidesteps every attempt on his life as his investigation drives him inexorably toward Crab Key, a remote Caribbean island owned by Dr. Julius No (Joseph Wiseman). With the assistance of CIA man Felix Leiter (Jack Lord), a local named Quarrel (John Kitzmuller), and the beautiful Honey Ryder (Ursula Andress), Bond makes his way to the island to solve the mystery and save the day.
Dr. No is low (relatively speaking) on smug sexism, smarmy one-liners, and skiffy gadgetry — all to the good — and it's interesting viewing, not just in the context of Bond history, but spy film history. It's full of classic, iconic tradecraft, and one can see its influence stamped all over the canon. The location photography is gorgeous, and there's a confident gloss to the production. It's also interesting to contemplate other directions the series might have gone, based on this first, toned-down sample.
Despite these assets, though, I found the film a slog. The plot is simplistic, and the pace is positively glacial, not uncommon for films of this era. Typically, this wouldn't bother me, but here it does, probably because I find the franchise so emotionally hollow and hard to invest in. On points, it's probably one of the better Bond films I've seen, harmlessly watched, but ultimately I just found it more evidence of my allergy to this series.