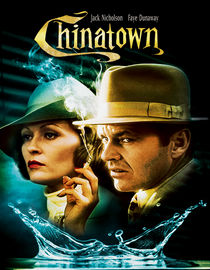 Now this is a classic. I saw Chinatown (1974) years ago, but I've been meaning to rewatch it ever since I moved to Los Angeles. Living here has given me a new perspective on its plot, and also deepened my appreciation for it as masterful noir.
J.J. Gittes (Jack Nicholson) is a private investigator who specializes in domestic cases. When he's hired by a woman to prove that her husband, Hollis Mulwray (Darrell Zwerling), is having an affair, he enters the case with his usual professional distance. He solves it quickly, causing a scandal, but then Mulwray — who is the head of the LA Department of Water and Power — turns up dead, and he learns the woman who hired him wasn't even his wife. Having been played for a sucker in someone's hidden agenda, Gittes sets out to solve the mystery, which entangles him with the real Mrs. Mulwray (Faye Dunaway) and a dastardly conspiracy.
Gorgeously filmed and patiently executed, Chinatown is just classic noir mystery. Robert Towne's script is brilliantly structured, escalating with subtle reveals as it weaves an intricate web of agendas and motives. As the puzzle pieces fill in on the mystery, we also develop a better sense of Gittes: Nicholson gives perhaps his quintessential performance, full of quips, snarls, and attitude. Dunaway is also superb as the femme fatale with a horrible secret. One of the best mystery films ever made.