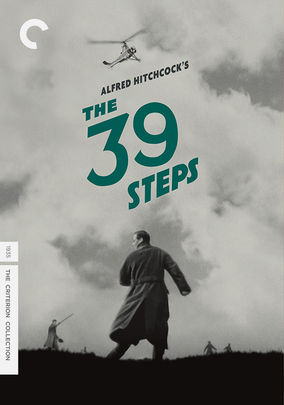 Probably my favorite of Alfred Hitchcock's pre-Hollywood films, The 39 Steps (1935) is a cornerstone work: a brisk, funny "wrong man" spy adventure. Hitchcock would explore this type of film later in the curious Saboteur and the great masterpiece North by Northwest,  but it's The 39 Steps that paved the way.
Canadian businessman Richard Hannay (Robert Donat) is enjoying a show in London when chaos erupts: shots are fired, and the theater evacuated. Hannay finds himself escorting a mysterious woman (Lucie Mannheim) to safety. Turns out she's a freelance spy, attempting to elude enemy agents and convey an important secret to the British government. Hannay take her in, but when enemy agents assassinate her in his apartment, he becomes the prime suspect. Following her clues, he flees to Scotland to clear his name, with both the police and a network of enemy agents in hot pursuit.
Hitchcock's early black-and-white films often feel sluggish by contemporary standards, but The 39 Steps doesn't have that problem. It's quick, breezy, fun stuff, with Donat an accessible and slightly slick hero: a prototype, perhaps, for Cary Grant's performance as Roger O. Thornhill. I found his on-the-fly love interest Pamela (Madeleine Carroll) fetching, if a bit slow on the uptake, but they have a decent chemistry. While it lacks the impressive set pieces Hitchcock would later become known for, it unfolds neatly and economically. A shrewdly placed selection on the list, both as a formative Hitchcock film and an influential entry in the spy genre.