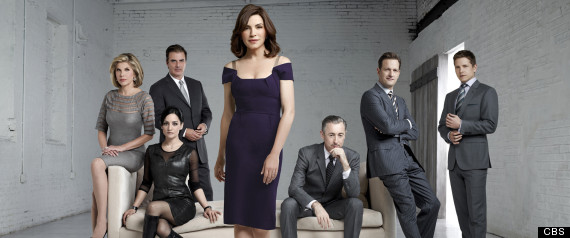 Every time I finish off a season of The Good Wife, I find myself envying those who haven't discovered this great show yet, because they've got a really fun, engrossing marathon ahead of them. No network drama jams so much story into an hour, and even with 112 episodes under its belt, it shows no signs of running out of new directions to go.
For the uninitiated, the show is legal drama (among other things) about Alicia Florrick (Julianna Margulies), the wife of a prominent Illinois politician, whose life was turned upside down by her husband's infidelity and seedy dealings. The scandal pushed her back into the workforce, and much of the first four seasons found Alicia renewing her legal career and climbing the ladder at Lockhart Gardner, a high-profile firm in Chicago. As season five begins, though, Alicia's on-again off-again romance with named partner Will Gardner (Josh Charles), combined with more than a little disgruntled office politics, lead Alicia to split off with former rival Cary Agos (Matt Czuchry) to form a new firm.
This thorny "defection" storyline drives much of the first half of the season, and it's a gold mine of pressure-cooker moments for the show's marvelous characters. The rivalry between the two firms, while it gets a bit long in the tooth, is an engrossing David and Goliath battle, driven largely by Will's reckless competitiveness, Alicia's desire to escape the past, and Cary's vision to build something from the ground up. Just as this storyline exhausts itself, shocking events transform the landscape of the show yet again, putting the battle into a new perspective. The season winds down with some of the series' funniest episodes — a throughline involving NSA surveillance mixes terrific humor with barbed commentary, culminating in the brilliant "All Tapped Out" — while a new lawyer, Finn Polmar (Matthew Goode) finds his way into the mix.
Five seasons in, The Good Wife could very easily have devolved into a legal case-of-the-week procedural, but showrunners Michelle and Robert King clearly understand that the cases are a dramatic MacGuffin: a way to maneuver their characters into conflict. Not that they are content to constrain things to the legal world. The week's case is often the B, C, or D story in a show that ricochets from family drama to political intrigue to soap opera romance to corporate espionage on a regular basis. These jam-packed scripts keep The Good Wife's massive roster of memorable characters plenty busy, and character, here, is ever the key. It is almost ridiculous how many good characters this show has: well developed, accessible, and likable (or likably hatable) people. Even the clients and witnesses are interesting. This one is still delivering the goods on a regular basis. I'm looking forward to season six!