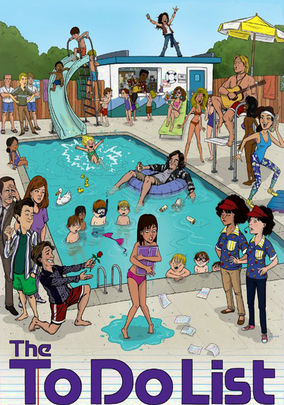 As film genres go, the teen sex comedy is mostly a toxic wasteland, but I enjoyed The To-Do List (2013), a messy but earnest indie that tweaks the usual scenario in unexpected directions. In early nineties Boise, Brandy Klark (Aubrey Plaza) is the class valedictorian and a straight-laced know-it-all, but she's clueless about one subject: sex. Encouraged by her best friends Fiona (Alia Shawkat) and Wendy (Sarah Steele), Brandy turns her final summer at home into an extended session of sexual homework, determined to cross as many experiences off her list as possible before heading off to college — culminating in losing her virginity to sexy lifeguard Rusty Waters (Scott Porter).
The To-Do List is a wildly uneven film. Considering its premise, it feels structurally aimless, misdirecting its energies at too many relationship arcs (most egregiously, Bill Hader's slacker lifeguard Willy). It felt like an extended, unmitigated director's cut; a ruthless edit might have improved the comic pacing. The humor varies from genuinely funny to predictable. Its early 1990s period-piece jokes, while occasionally inspired — Andy Samberg's cameo in a Nirvana knock-off band, for example — are also overplayed.
But the film does get a lot right, starting with its cast. I'm a sucker for Plaza, who never quite shakes her April Ludgate delivery, but has fun inverting her usual disaffected apathy into hyper-engaged smart girl. I liked Porter's hammy hot dude, and Johnny Simmons, practically spewing Gen X sensitivity as Brandy's friend/love interest Cameron. Connie Britton and Clark Gregg are terrific as Brandy's over-sharing mother and uptight father, and Donald Glover delivers the usual brilliant timing in a small role. There's also something refreshingly honest about the way the film engages with teen sexuality in the pre-Internet era: how confused posturing and inaccurate word of mouth drive uninformed behavior. In some ways Brandy's frontal assault on the subject is unrealistic, but the world and its people felt true, and the message, while often inelegant, is positive.
An imperfect and overlong film, then, but also well meaning, genuinely funny, with a great cast and a nice energy. On points, I'll give it a thumbs up.