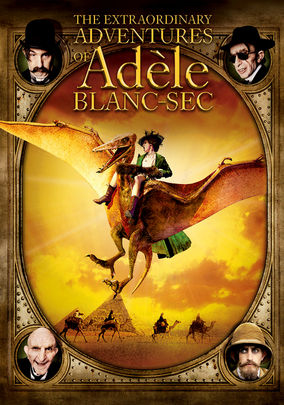 A promising-looking period fantasy, The Extraordinary Adventures of Adèle Blanc-Sec (2010) ultimately only proved to me that Luc Besson's sense of humor doesn't work for me in French any more so than it does in English. With a tone similar to The Fifth Element, it's an imaginative but messy kitchen sink of unfunny humor and incongruous fantasy tropes.
Adèle Blanc-Sec (Louise Bourgoin) is something of a French, female Indiana Jones. Capable and adventurous, she'll travel to the ends of the Earth to help her sister, who is desperately ill. Her plan? Reanimate the mummified remains of a brilliant Egyptian doctor. (Uh, yeah, okay.) Unfortunately, her partner in this endeavor, Dr. Espérandieu (Jacky Nercessian), decided to practice his death-raising talents by mind-controlling a pterodactyl he hatched in a museum exhibit by sheer force of his mental will. For this, he's been thrown in prison, of course. So, Adèle needs to rescue the doctor to save her sister, while repeatedly butting heads with a police inspector and a big-game hunter who've been hired to capture the rogue pterodactyl. Got all that?
After a scattered but promising opening, wherein the film looked to be a playful fusion of Raiders of the Lost Ark and Amelie, The Extraordinary Adventures of Adèle Blanc-Sec goes south rather quickly. Its humor misses the mark, and its plot is pretty much a zany kludge designed to set up setpiece eyeball kicks. The production is certainly attractive, and so of course is Bourgoin, who executes Adèle's energetic hijinks with aplomb. But in the end it's more diverting than absorbing: silly background viewing with subtitles.