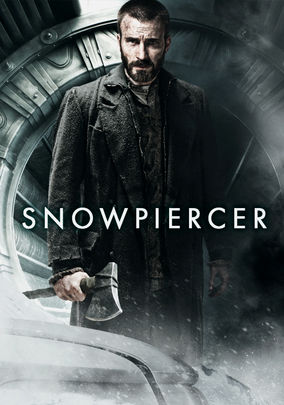 Miraculously, I stumbled into Snowpiercer (2013) with no preconceptions whatsoever. Well, beyond a general sense of positive buzz, that is…so imagine my surprise when I spent the first hour rolling my eyes and glancing at my watch. Then something curious happened: a switch flipped, and the film weirdly redeemed itself. In the end, it's still a bloody awkward mess of a movie, half awful and half good. And yet, in a possibly accidental, unexpected way, it's also kind of brilliant.
In the future, a climate change experiment goes wrong, plunging the world into a new ice age. Humanity goes extinct with the exception of those who were lucky enough to board the Snowpiercer, a train that perpetually circumnavigates the globe, defiantly serving as a last bastion for the survivors. The train is a closed ecosystem, and within it, a caste system emerges, with the privileged elite in the front and the lower-class waste in the back. It's a brutally unjust set-up, and one that Curtis Everett (Chris Evans) is determined to overthrow. Using intelligence smuggled back from mysterious allies, he and his team — including his sidekick (Jamie Bell), a woman whose son was stolen from her (Octavia Spencer), a security specialist (Song-Kong Ho) and his daughter (Go Ah-sung) — lead a revolution to rush the front of the train, overthrow the dictatorship, and take over.
Taken literally, of course, the SFnal world-building is preposterous, so the script goes to great lengths to make it absolutely explicit that we are squarely in Metaphor Land: the train is the Earth, the passengers are humanity, yeah we get it. The approach is artless and obvious, a pretentious allegory that makes Elysium look masterfully subtle. Its message-y ambition feels like a sham, draped as it is across a plot that is — at first, anyway — blunt, hopelessly linear, and ultraviolent. The pacing is wildly uneven, and the tone is all over the map, from silly to super-serious and back again. Is this a brutal war epic, a dark comedy, a skiffy adventure, or an arthouse experiment? Perhaps it's all of them at once, but if so, it doesn't seem strategic or in-control about it; instead, it seems to be trying ideas randomly and keeping everything, whether it meshes, clashes, or both. By the midpoint, I couldn't wait for it to end.
But as the party makes it way further and further toward the front of the train, Snowpiercer increasingly embraces its gonzo central concept, and somehow that saves it. With each train car they enter, the visionary metaphors get more outlandish. There's this weird scene with Alison Pill, who is gleefully terrible as a school teacher brainwashing upper-class children with dogmatic Republican values. I hated the scene, but it kind of turned the film on its ass, escalating The Crazy in a way that serves the vision. The characters start to matter, the blunt-force trauma of the metaphors stops hurting, and a whole begins to take shape from all the unlikely parts. Even the film's unsuccessful attempts to reverse engineer its implausible world — explaining the machinations of the train with too-late, sort-of cleverness — suit the kludgy nature of it. Then, as the final confrontation nears, Evans delivers this intense, shattering monologue that kind of aligns everything, Ed Harris turns up to drill home the final message, and it ends with a heartbreaking, breathtakingly beautiful final image.
What an absurd, fascinating mess it is. And that plays right into its ultimate, clunky metaphor, doesn't it? Like the Earth, like its people, like life, Snowpiercer is at once terrible, awesome, disposable, and essential. Could it be its uneven grasp of craft actually works to the theme? After much consideration, I both loved and hated the film, and I'm very, very glad I saw it.