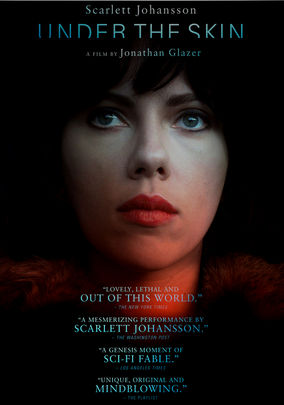 The degree to which you enjoy Under the Skin (2013) will depend largely on how much you enjoy experimental, arthouse "what-the-hell-is-going-on-here" movies. Also, you might want to bring along a high threshold for being creeped out. Warning: I love this type of thing, and I found it intense, riveting, and rather unsettling.
This film does have a plot, but it's rather a submerged and inchoate one. It follows a mysterious woman, played by Scarlett Johansson, across the Scottish countryside as she preys on unsuspecting men. What she does to them is deeply disturbing, and speaks to her peculiar condition. But she's not fully in control of her fate: what she's doing is a by-product of her nature, and also, perhaps, influenced by the oversight of an equally mysterious biker (Jeremy McWilliams) to whom she's connected. She seems compelled, or duty-bound, to play her role, but ultimately she goes rogue.
Under the Skin is chilling, moody science fiction horror that relies largely on visual story-telling and masterful sound design to create a stark, unforgiving atmosphere. It's impossible to look away, and not just because of Johansson's alluring performance. The cinematography is impressive, from the landscapes to the set designs to the utterly unnerving visual effects, and the film quietly lets the action and imagery unravel the film's mysteries. The dialogue, much of it improvised and heavily accented, is almost incidental. It makes for something of a visual puzzle, then, but it's enhanced immeasurably by the audio: even the most static, mundane scenes are given tension by the sound and music, leveraged like weapons against the viewer.
As for the narrative itself, I'm not quite sure what to make of it. Sometimes the film seems fraught with hidden meanings and metaphors, but in the end, it seems a simple SFnal story, its mechanics rendered mostly explicit. I didn't actually care to fully decipher it, though, too caught up in its fascinating moments and dazzling techniques. Director Jonathan Glazer has created a cult masterpiece, here, in the offbeat vein of David Lynch or Nicolas Roeg. I loved it.