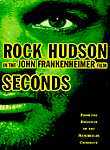 On first viewing, years ago, John Frankenheimer's Seconds (1966) made a powerful impression on me. I've been wanting to revisit it, and while it didn't wow me with the same intensity this time around, it's still a remarkable film: a creepy, slow-building Twilight Zone mystery and a full-blown assault on the spiritual emptiness of the American Dream.
Arthur Hamilton (John Randolph) is a taciturn, married banker, both upper-middle aged and upper-middle class, and he should have everything he wants in life. But he's a tepid man leading a tepid life, and his lot feels hollow, a condition exacerbated by bizarre phone calls from an old friend named Charlie (Murray Hamilton). The problem? Charlie's dead. He's also hellbent on luring Arthur into a shady underworld operation that will give him a second chance at true happiness, quite literally remaking Arthur into a new man: Tony Wilson (Rock Hudson).
Shot in stark, eerie black-and-white, Seconds is a quirky, unsettling vision, and its first half is a strange and gripping what-the-hell-is-going-on puzzle. Randolph delivers a masterfully uncomfortable performance as he steps hopelessly through the creepy rat's maze, manipulated by a ruthless, morally bankrupt corporation into ceding his very identity. The film's grip weakens somewhat when the transformation is complete, perhaps because it resolves the propulsive surface mystery. The middle stretches, during which "Tony" takes up with an attractive young woman named Nora (Salome Jens) in Malibu as part of his new life, deliver the film into a less pointed, more psychological zone as Tony finds that the makeover didn't exactly quell his existential crisis. Perhaps deliberately, the film feels more aimless here, but Hudson's terrific, raw performance as this erratic "new" person feeds nicely into a chilling finale. Definitely a product of its time, Seconds is also ahead of it with its offbeat, dark humor, haunting visuals, and its fierce, relentless critique of vapid American culture.