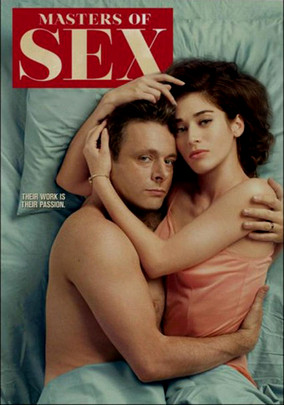 Biopics are an iffy proposition for me at the best of times, but Masters of Sex proves that maybe TV is the better medium for biopics than film. The lives of historical figures may not lend themselves to neat and tidy, feature-length stories with beginnings, middles, and endings, but a truly interesting life can lend itself to many compelling episodes.
Or, in this case, lives; catchy wordplay of the title notwithstanding, the show is misnamed. Yes, while it is about Dr. William Masters (Michael Sheen), the groundbreaking midwestern gynecologist who pioneered the study of human sexuality in the 1950s, it's also just as much about his essential partner in these studies, Virginia Johnson (Lizzy Caplan), whose attitude and insights helped push a stiff scientist's research in the right directions. As the series begins, Masters is a powerful hotshot doctor for Washington University's maternity practice in St. Louis. He and his wife Libby (Caitlin FitzGerald) are struggling to have a baby, and also to connect in their marriage. Johnson, meanwhile, is a twice-divorced former singer with two children, who reboots herself as Masters' secretary – but she's ambitious, charming, and quickly develops a knack as his research assistant. As it happens, she's the perfect complement to Masters as he begins a risky, risqué new study of human sexuality. Oh, and not that he'll admit it to himself, but he also falls head over heels in love with her.
The show surrounds its two primary subjects with a likeable cast of sympathetic characters. Most integral to the plot is Barton Scully (Beau Bridges), a hospital executive whose closet homosexuality – which Masters knows about – gives Masters the leverage he needs to rubber-stamp his research. Barton's situation leads to a heartbreaking subplot involving his long-suffering wife, Margaret (Allison Janney). Masters' protégé, the young Dr. Ethan Haas (Nicholas D'Agosta), is in the mix as a romantic rival, while Dr. Austin Langham (Teddy Sears) and secretary Jane Martin (Heléne York) become important early participants in the study.
Even at their best, Showtime's series often strike me as glitzier, more surfacey responses to the weightier fare on HBO and AMC. With its 1950s period piece trappings and heavy focus on gender politics, my initial take on Masters of Sex was that it's a direct descendant of Mad Men, but with more sympathetic characters and more interest in eye candy titillation. But as the season evolves, its gradually transcends that comparison. It has taken its biopic material and spun it into a complicated workplace drama, filled with romantic entanglements and frank explorations of the physical and emotional repercussions of sex. Masters and Johnson, with their clinical methodologies, submerge their emotional responses to sex "in the name of science," and their relationship is a fascinating one, contrasted against the more human, heart-on-sleeve emotions of the supporting cast.
Surely Masters and Johnson the characters are more accessible and attractive than Masters and Johnson the actual people? I suspect so; the subject matter definitely feels "Hollywoodized." But if so, it's cleverly adapted and makes for engaging entertainment. The two leads sell the material effectively and have an effortless rapport. Sheen is terrific as Masters, whose adventurous scientific approach to sexual knowledge doesn't fail to conceal his own buttoned-down, repressed relationship to it in his personal life. But as Johnson, the liberated, forward-thinking woman who doesn't fit into her era, Caplan is the heart and soul of the series, the real hero – intelligent, funny, and fearless. The writing handles her struggles to advance, and Masters' taken-for-granted power and prestige, with a deft touch that is probably more forgiving than the reality…an approach that makes Masters of Sex easier to handle than Mad Men, and more naturally accessible. I don't think it's as subtle or as powerful, but it handles similar themes rather likeably. And once you get past the glossy, exploitive Showtime vibe, it's actually a feminist show – giving considerable play to the challenges of the women in its cast, especially Caplan, FitzGerald, Janney, and Julianne Nicholson (who plays the only female doctor at the university, Lillian DePaul). Masters of Sex feels a little less realistic about its gender politics than Mad Men – it's more clearly a case of modern viewpoints showing through a filter of the past, as opposed to full immersion. But this makes it more watchable, and especially in the last few episodes of the year, it makes for some scenes that are quite moving.
It's definitely a period soap opera, in some respects, but it's a much better show than I was expecting: smooth, insightful, historically interesting, and entertaining stuff. Well worth a viewing, especially for the acting.