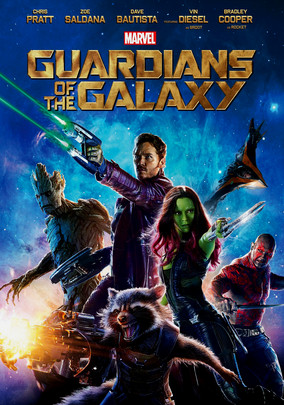 Consider me among the many who felt that Guardians of the Galaxy (2014) was a weird choice for expanding the Marvel Cinematic Universe. Now that I've seen it, consider my skepticism erased. Knowing very little about these characters, I went into the film expecting nothing except that it would probably be pretty good. But it's much better than good — in fact, it's among the best of the Marvel films to date.
Abducted from Earth as a young boy, Peter Quill aka Starlord (Chris Pratt) is a goofball thief on a mission to retrieve and sell a powerful, mysterious orb. Alas, the orb (read: universe-shaking MacGuffin) has other suitors, most dangerous among them the ruthless Kree leader Ronan (Lee Pace). Quill's attempt to sell the orb lands him in prison with Ronan's treacherous assassin Gamora (Zoe Saldana), a genetically engineered raccoon named Rocket (voiced by Bradley Cooper), a giant tree-creature named Groot (voiced by Vin Diesel), and a violent maniac named Drax the Destroyer (Dave Bautista). Cast together by fate, this ragtag group forges a tenuous alliance in order to make their fortune and achieve their individual goals. But as they learn more about the orb's vast powers and its potential for wreaking havoc on the galactic order, they start to come together as a team to serve a greater purpose.
The movie starts slowly and distantly, but soon escalates into a wicked fun adventure full of laugh-out-loud humor, heart, and gorgeous science fiction visuals. In the comic books, Marvel's galactic adventures never resonated with me the same way their Earth-based stuff did, but much as the Thor films made Asgard accessible, Guardians does the same (even better) with Marvel's alien worlds and interstellar civilizations. Getting invested in the plight of these distant worlds did not take long.
But where the film exceeds most is in introducing and building its characters: an increasing strength of the Marvel films. The team is your classic band of outlaw misfits, but the script digs a little deeper, giving each of them powerful moments that render them more sympathetic and real. Pratt brings his usual, effortless comic timing and physical humor; Saldana and Bautista are both physically formidable and quirkily likable; Groot is an absolute hoot as the team's Chewbacca-figure; and Rocket, a character I expected to find annoying, is possibly the most nuanced and entertaining character, given terrific voice by Cooper. The narrative builds their created-family rapport organically and convincingly, and for a big-budget film so whimsical and kooky, it's a surprisingly inspiring narrative, regularly delivering emotional, verklempt-making moments, right before hilariously breaking them down.
As is often the case in these affairs, the villainy feels incidental. Pace's effective Ronan is your standard universe-threatening sociopath, and his underlings — most noticeably Nebula (Karen Gillan) — aren't given much to do beyond bringing the violence. But it's hard to find much else wrong with the film, a winning, spectacular adventure and another impressive feather in Marvel's cap. Loved it!