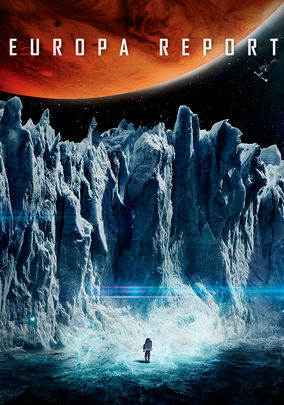 It was only a matter of time: the "found footage" craze meets the SF space mission in Europa Report (2013), an uneven affair that can't quite reconcile its inherent sense of wonder with its obligatory terror-in-space plot. It's about a six-person team of astronaut-scientists who journey to Jupiter's icy moon of Europa, to try and confirm whether the watery planet harbors any life. Half archival footage, half documentary, the film recounts in nonlinear, mystery-building fashion the terrifying experiences of the crew, and their ultimate scientific discoveries.
The film possesses effective science fictional moments, and the international (if mostly white) cast — Christian Camargo, Sharlto Copley, Anamaria Marinca, Michael Nyqvist, Karolina Wydra, and Daniel Wu — does a fine job enacting its dramas in the claustrophobic, bottle-show interiors. When it ventures outside the ship, there are eye-widening visuals and effects, and some classic "Cold Equations" SFnal dilemmas. In general, it's a respectable effort.
Unfortunately, it's also beset by an ungainly pace — for a ninety-minute film, it sure feels long — and the scientific mysteries ultimately revealed are not terribly surprising. It could just be that I'm inured to the familiar tropes of the "horror-in-space" subgenre, but the real problem is that this movie seems more interested in its form than its substance, the filmmakers so focused on the techniques they're using that they lose sight of the narrative, bringing things to a flat, underwhelming stop. It's certainly not without merit, but ultimately disappointing.