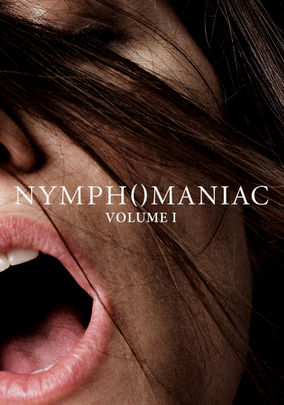 So now I've seen the notorious Nymphomaniac (2013). Perhaps my past experience with von Trier's provacative shock tactics has inured me, but it's not as outrageous as I was expecting, despite its frank discussions and graphic depictions of sex and violence — which, since this is von Trier, are intertwined. But really, most of the film involves two articulate actors having a long philosophical conversation, and it's emblematic of von Trier's genius that the viewer is gradually, painstakingly seduced into listening. It felt like peeking behind a curtain at a very private story, and the effect is characteristically thought-provoking.
Long-suffering von Trier muse Charlotte Gainsbourg stars as Joe, the title character: a woman found beaten and bloody in an alley by a kindly old gentleman named Seligman (Stellan Skarsgard). Seligman takes Joe into his home, and when he finds her morose and self-critical, she decides to tell him her life story: a lengthy, tragic account of her lifelong, destructive addiction to sex. Joe's tale is both a cathartic exercise and an impromptu therapy session, as the two character's viewpoints provide differing angles of interpretation on Joe's singular experience.
As usual with von Trier, I was both dazzled and bemused, with a conflicted impression. His visual style is unrelentingly grim, but also darkly beautiful at times; his subject matter is unforgiving and explicit. He pushes buttons to provoke reactions, in this case challenging preconceived notions about sexuality and gender, and, through shock and awe, forcing the viewer to confront questions they might not otherwise have asked. It's difficult not to imagine Skarsgaard's character as the von Trier stand-in: the manipulative auteur, happy to speculatively mansplain his heroine's reactions to her own life story. This is discomfiting, but also kind of the point. At the same time, Seligman struggles to be the objective sounding board, morbidly fascinated by the salacious and sordid details. Seligman, like von Trier, enjoys talking about the things society might not find polite.
For me, the message managed to be both a muddle and ballpeen hammer to the forehead. My primary gut reaction was repulsion, yet I still watched with rapt attention, mesmerized by the craft and contemplating the artistic intent. The acting, especially from the ever fearless Gainsbourg and game-for-anything Skarsgard, is first rate. There are some particularly good supporting turns as well, most notably from Uma Thurman, whose emotional performance is raw and cringe-inducing. Unfortunately, Shia LaBeouf is along as a major love interest for Joe; his character, Jerome, serves as Joe's Achilles' heel. Perhaps it's LaBeouf's performance, or maybe his weird celebrity reputation proceeding him, but Jerome hardly seems worth the fuss.
Unsurprisingly, one must leave one's inhibitions and squeamishness at the door for Nymphomaniac, and it takes some work to appreciate it. As von Trier movies go it's no Melancholia, but it is an interesting film in the disturbing manner of Antichrist or The Idiots: an awkward watch through slitted eyes, from which you can't quite turn away.