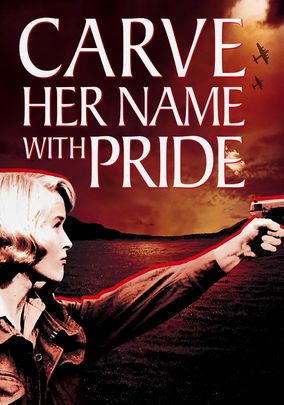 Netflix spent months convincing me I should watch Carve Her Name with Pride (1958), so I finally obliged. Indeed, it is my kind of movie. Hardly among the top rank of World War II spy thrillers, it's nonetheless an effective and occasionally moving one, rendered noteworthy as an unusual early action vehicle for a female star.
At the height of World War II, Violette Szabo (Virginia McKenna) falls in love with a dashing soldier of the French foreign legion, only to lose him to the war shortly after their marriage. A child of a British father and a French mother, Violette — fluent in French, athletic, fearless, and uncommonly motivated — is given a unique opportunity to aid the war effort. Despite having a young child by her short-lived marriage, she agrees to become a spy, jumping behind enemy lines to aid the French resistance.
Based on true events, this film is almost structurally identical to another one I watched recently, Decision Before Dawn, showing the origin, training, and finally the missions of an unlikely spy. Carve Her Name with Pride isn't nearly as accomplished, however, at least partially because it's a much more modest production. While it is a vehicle for a female action hero, the feminist subtext is dated: Violette isn't characterized much beyond her gender, and her story skews toward the home front, family, and marriage. But McKenna is an accessible lead, and the action scenes late in the film, when the going gets tough, are bracing, with Violette right in the thick of it. Carve Her Name with Pride is an uneven and occasionally slow wartime drama, but for me it was a diverting weekend matinee, quietly rewarding.