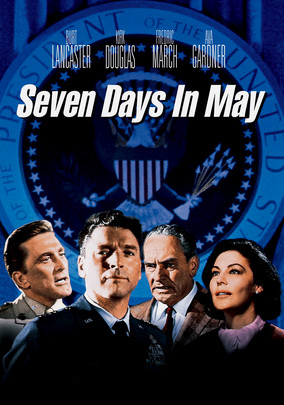 John Frankenheimer's conspiracy thriller Seven Days in May (1964) is considered the middle chapter in his "paranoia trilogy," a thematically linked sequence that begins with The Manchurian Candidate and ends with Seconds. The former is more famous, the latter more accomplished, but Seven Days in May is also a worthy, politically charged affair. The specific subject here is nuclear proliferation, and the apocalyptic dread it engendered at the height of the Cold War. While aspects of its political dialogue about the military-industrial complex are dated, the gist is still quite relevant.
It's a male-dominated ensemble film with multiple viewpoint characters, but the pivotal one is Colonel Jiggs Casey (Kirk Douglas), a principled Marines Corps colonel who works at the Pentagon. Casey is a hawk who opposes a recent nuclear disarmament treaty advocated by left-wing president Jordan Lyman (Fredric March), but he's also a firm believer in the Constitution and the democratic process that made that treaty a political reality. The intrigue escalates when he pieces together that his superior, General James Mattoon Scott (Burt Lancaster), isn't nearly as respectful of American institutions. Scott is a charistmatic right-wing firebrand who believes the Russians won't hold up their end of the bargain, and much to Casey's shock and concern, Scott seems willing to go to treasonous extremes to make sure the disarmament treaty doesn't take effect, even if it means a forcible military coup.
Penned by none other than Rod Serling, who flavors the proceedings with his distinctive voice and memorable turns of phrase, Seven Days in May is probably the least visually arresting of the films in this thematic trilogy. Serling's deliberate writing favors dialogue to visuals, and Frankenheimer follows the script's lead. It's still a compelling film, cleverly and patiently structured, building the drama and intrigue in a manner that doesn't insult the viewer's intelligence. If the message is a bit politically strident, it's also, much like Seconds, chillingly prescient. The cast is terrific across the board, bolstered by the likes of Martin Balsam, Ava Gardner, and Edmond O'Brien in key supporting roles. It might be too deliberate and talky by contemporary standards, but I found it a rewarding, historically interesting watch.