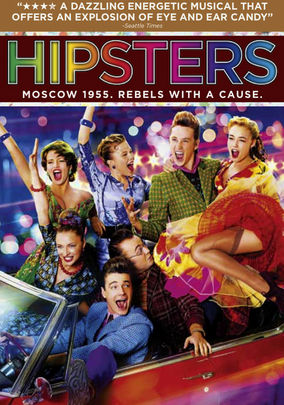 You know, I just can't get enough of Russian musicals. Er, wait, no. Actually, Hipsters (2008) is the only Russian musical I've ever seen. Alas, despite a promising idea and an arresting look, this one didn't exactly captivate me.
But it's certainly interesting. Set in 1950s Soviet Russia, it's a love story about Mels (Anton Shagin), a wavering member of a communist youth organization, who, following a raid on an underground jazz club, falls for a young woman named Polly (Oksana Akinshina). Mels' infatuation with Polly quickly causes him to lose his grip on proper, drab Soviet behavior, and he crosses over into a politically risky, colorful subculture of jazz afficionados: the "hipsters." These non-conforming free spirits, with their loud clothes and wild parties, transform Mels into the Americanized "Mel," making him an outcast in his own country, but also a part of something else.
Hipsters is a mixed bag. It has a rich, visually striking look and an infectious energy, but unfortunately it loses steam as it goes along; the structural polish isn't quite there, nor is the pacing. The musical numbers are okay, but failed to charm me consistently, and the weird lyrical translations made it difficult to fit the music into the story. Indeed, I suspect much of the film's theme and message just didn't quite translate cleanly. It's attractively produced, and culturally and politically intriguing, but ultimately Hipsters just didn't flip my switch.