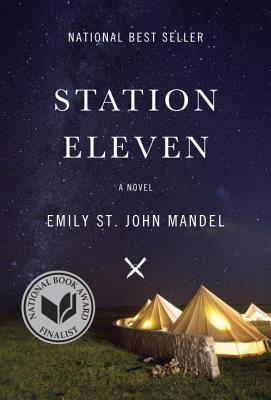 It's only February, but I wouldn't be surprised if Emily St. John Mandel's Station Eleven (2014) ends up as my favorite read of the year. This literary science fiction novel about the end of modern civilization is insightful, compelling, profoundly haunting, and heart-breakingly beautiful.
A fast-spreading, worldwide epidemic called the Georgia Flu quickly and ruthlessly wipes out most of the world's population. The story temporally orbits a night of theater at the outbreak's North American ground zero, Toronto, where world-famous movie star Arthur Leander is wrapping up a run as King Lear. Arthur's last performance proves to be the fulcrum for the complex narrative, which reaches into the past to examine the time leading up to the collapse, and probes into the future to depict the epidemic's dark aftermath. In the latter track, young actress Kirsten Raymonde — who, as a child, shared a stage with Arthur on that fateful, final night — performs in a traveling theater troupe that tours the primitive settlements of Michigan. From this bleak future, Mandel weaves an intricate tale that ties together the pre- and post-collapse storylines, cycling back to a vividly realized transitional period when the world shockingly, fascinatingly comes unraveled.
Station Eleven has a lyrical, literary sensibility, but stirs in plenty of thought-provoking science fictional thinking; Mandel is clearly comfortable with both mainstream and genre protocols. Her prose manages to blend clear, concise story-telling with finely wrought turns of phrase and moments of devastating beauty. Her characters are real and sympathetic and deftly interconnected by events. The story is structurally breathtaking, but also thematically rich, thrusting the reader into wrenching, eye-opening insights about the marvels of the world by imagining a future where those very marvels have all tragically fallen away. It's a stunning novel, and one I won't soon forget.