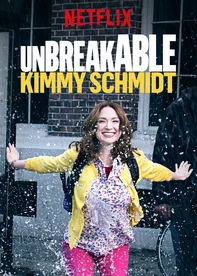 Kudos to Netflix for picking up Robert Carlock and Tina Fey's zany new series Unbreakable Kimmy Schmidt, a fast-paced comedy that ramps 30 Rock absurdity to the next level. The show follows the life of Kimmy Schmidt (Ellie Kemper), a young woman who was abducted into an apocalyptic cult as a teenager. Over a decade later she's rescued and, forced to assimilate to modern times, decides to start over in New York City. After moving into a basement apartment with the starry-eyed, perpetually broke Titus Andromedon (Tituss Burgess), she lands a job with the blindly entitled Jacqueline Voorhees (Jane Krakowski), leveraging her eighth-grade education, can-do attitude, and hard-won bunker-cult "wisdom" toward getting her life back.
Perhaps too weird for NBC, which maybe wasn't ready to sustain another low-ratings critical darling, Unbreakable Kimmy Schmidt is another great fit for Netflix's slate of original material: quirky, addictive, bingeworthy comedy that's sure to inspire a passionate fanbase. It succeeds on the strength of its lightning-quick pace, talented cast, and anything-goes, stream-of-conscious sense of humor. Kemper's spirited, go-for-it performance as Kimmy is magnetic; she's an explosive combination of Leslie Knope enthusiasm and Liz Lemon out-of-touchness, with a generous sprinkle of unpredictable weirdness on top. Burgess, Krakowski, Carol Kane, and the rest of the supporting cast keeps up nicely with the tongue-twisting material, which, at its best, is marvelously funny and surprising.
Alas, it's not always at its best. For a show that's refreshingly diverse and socially open-minded, it also occasionally crosses lines and sticks its foot in its mouth. Its 1990s nostalgia call-outs get stale quickly, and some of the jokes, full of convoluted syntax and obscure references, work a little too hard. The season winds down with a disappointing story arc that takes Ellie back to Indiana to confront her cult past; the show is much better when it stays in the colorful, loopy New York world it has created.
By and large, though, I was charmed and delighted by the show; its first ten episodes are gloriously fun and surprising. Like many comedies the material is uneven, but overall it's a very promising first season.