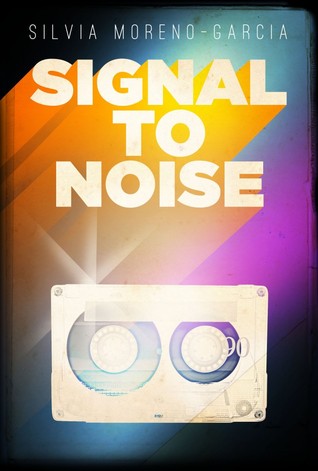 An emotional mystery sits at the heart of Silvia Moreno-Garcia's promising debut novel Signal to Noise (2015), an intriguing blend of 1980s nostalgia, music, magic, and unconventional romance. In 2009, Meche Vega—an expatriate computer coder living in Norway—reluctantly returns to Mexico City upon the death of her ne'er-do-well father. Coming home is emotionally charged, forcing Meche to confront not only her conflicted relationship with her family, but unfinished business with her childhood friends Sebastian and Daniela. Their long-dormant social strife wasn't just fomented by garden-variety teen angst, however. There was also magic; the three of them had, together, learned to cast spells using music. This secret practice initially brought them closer together, helping them navigate the hells of high school, but ultimately it pried them apart. What exactly happened, though?
The narrative answers that question by alternating between 2009 and the late 1980s, the tracks converging neatly to reveal the emotional rift that separated Meche's troubled past from her isolated present. It's a neatly revealed mystery, characterized by rich period detail and compellingly rendered characters. Most impressively, Moreno-Garcia crafts a vivid and convincing setting, strikingly true to my experience of the time period even as the culture and geography are of course different. It's deft historical world-buiding.
Alas, I did find one aspect of the novel troubling: Meche is deeply, and at times arbitrarily, unlikable. She's a great character, but unfortunately not a very good person: cruel, arrogant, spiteful, selfish, and too cool for school. In other words, she's a 1980s teenager, but with none of the rough edges removed, and her later, thirty-something self doesn't seem to have attained much distance or perspective. This is only problematic because I think we're suppose to sympathize with her and hope for her happy ending; but her redeeming qualities are scarce, with just a handful of miniscule soft spots to invite the reader into her heart.
That said, there's something true about Meche, something real. She speaks, with confidence and authority, to a certain youthful, troubled, coming-of-age mindset, and I suspect many of us will see a little of ourselves in her; I know I did. But part of me wishes she'd been softened, just a smidge, to let us in and give us a more reasons to cheer her on. This is hardly a fatal flaw for me, at any rate, and I definitely came away from it enthusiastic to see Moreno-Garcia's next novel.