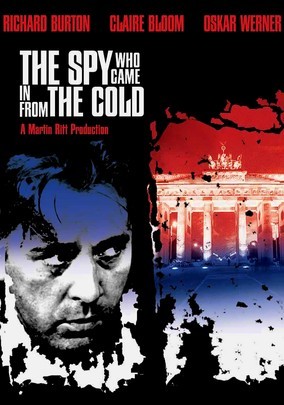 In my book, the list's top three selections are unassailably awesome, but it's The Spy Who Came in from the Cold (1965) that may be the most perfect spy film. This classic of noir intrigue, based on John Le Carré's breakout novel, is an elegant masterpiece of convoluted espionage plotting. It may not be the most purely enjoyable film on the list, but it's certainly the tightest, craftiest, and most brilliantly realized one, and its influence still lingers fifty years later.
Based in Berlin, Alec Leamas (Richard Burton) is a station chief for British intelligence. When the last of his agents is killed trying to cross the border, he's called back to London and put out to pasture by his boss, Control (Cyril Cusack). Or is he? As it turns out, Control has one last operation in mind for Leamas: selling him to the East Germans as a disillusioned defector, in order to implicate the enemy's top man, Hans-Dieter Mundt (Peter van Eyck), of being a British spy. The elaborate, subtle charade involves Leamas' faked expulsion from the service, a meager new job, and a descent into embittered alcoholism. It also entangles him in an unexpected romance with a co-worker, Nan Perry (Claire Bloom). But ultimately Leamas hits rock bottom, and when he does, enemy spies come out of the woodwork to recruit him. The devious British plan is in effect, but it turns out to be even more devious than Leamas ever imagined.
Shot in stark, elegant black and white by director Martin Ritt, The Spy Who Came in from the Cold is an absolute classic of dark spy fiction, and surely one of the genre's most ingenious narratives. Ritt's take is quite faithful, representing a rare instance of a film matching the quality of its source material. The script doesn't pander or over-explain; it simply immerses the viewer in its sordid, mysterious world, stringing together stately sequences that paint a tantalizing, gradual mosaic that explodes into focus during the final act. In the process, it serves as an unforgiving, vicious rejoinder to the glamorized, wish-fulfillment exploits of James Bond and his suave, spy-fantasy ilk. At the heart of it all, Richard Burton is ferocious as the embattled Leamas, giving one of spy fiction's most memorable figures an unforgettably riveting performance.
Viewers searching for colorful, escapist spy action will bounce right off of The Spy Who Came in from the Cold, but diehards attracted to the genre's murky gray areas and ethical ambiguities will find it an absolutely essential watch.