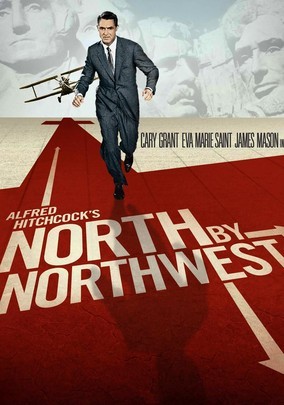 When I first watched North By Northwest (1959) nearly thirty years ago, I had no idea the path it would send me down. This classic comic thriller from Alfred Hitchcock was my first spy film, and possibly the most influential single film on me as a writer, even convincing me briefly that I wanted to write screenplays. With the possible exceptions of Brazil and The Great Escape, I've probably viewed this film more than any other, and this latest rewatch did nothing to change my mind about it: definitely one of the best spy films of all time, and still one of my favorite films ever.
The "wrong man" in this quintessential mistaken identity plot is New York advertising man Roger Thornhill (Cary Grant), a slick, fast-talking bachelor without a care beyond refilling his glass and placating his acerbic mother (Jessie Royce Landis). Thornhill's day at the office sends him to a business lunch that goes off the rails when chance leads enemy agents to mistake him for a man named George Kaplan. He's kidnapped and driven at gunpoint to "Townsend" (James Mason), a suave, sinister fellow determined to interrogate the man he's convinced is Kaplan. Naturally Thornhill is baffled, but his confusion is mistaken for brilliant play-acting, and the heavies attempt to kill him in an arranged "accident" that he barely escapes with his life. When he explains his case to the authorities, nobody—not even his mother—believes him. So he inserts himself into the intrigue even further by investigating the mysterious George Kaplan, a decision that backfires when an escalating sequence of events turns him into a fugitive from justice and an amateur spy.
I envy anyone who hasn't seen North By Northwest, which is easily one of Hitchcock's greatest entertainments. Oh, elements of its production certainly don't hold up to modern standards—this time around, I spied a few more seams showing—but it's important to remember that when it came out, Hitchcock and screenwriter Ernest Lehman were basically writing the book on this kind of blockbuster. It's a funny, suspenseful American travelogue that carries Thornhill, and later femme fatale Eve Kendall (Eva Marie Saint), from New York to Chicago to South Dakota, peppered with witty dialogue, unforgettable suspense sequences, and impeccable visual story-telling along the way. Hitchcock's filmmaking craft peaked in the fifties and there's evidence of his mastery in virtually every frame, from the carefully shot and edited chain of events that thrusts Thornhill unwittingly into the enemy's sights, to the brilliant cropdusting sequence, to the climactic, cliff-hanging finale on Mount Rushmore. Grant is perfect in a complex comedic lead, Saint shines as his love interest, and Mason and Martin Landau provide the requisite slimy villainy. (Really, does anyone play this kind of role better than James Mason?)
I'm certain a modern viewer coming to this film may find fault with its outdated aspects, but for me the viewing experience is ever rooted in my formative interpretation. I love North By Northwest, and the number two slot on this best-of list seems like the perfect spot for it.