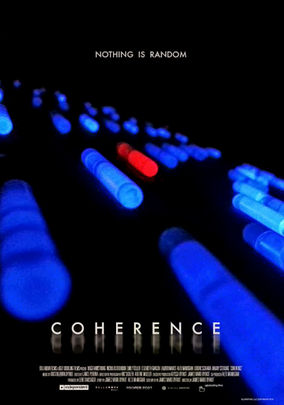 The quality of Coherence (2013) vacillates wildly, but ultimately it's a worthwhile watch. This low-budget, independent SF film gets off to a rocky start before building its mystique, then stepping on that mystique, and then finishing strong.
On the night that a comet streaks past the Earth, eight friends gather for a dinner party at the home of Mike (Nicholas Brendon) and Lee (Lorene Scafaria). The affair begins innocently enough, but then strange phenomena start to occur—shattered smartphones, power outages, and inexplicable mysteries surrounding a spooky house up the street. As the night turns freakishly weird, the group works to analyze what's going on, led by Em (Emily Foxler), the first to put to the pieces together. But for all their brainstorming, their lives may never be the same again.
The first twenty minutes of Coherence is clumsy, a semi-improvisational stretch of shaky cam, quasi-found footage that introduces its characters and sets the scene. As this Twilight Zone bottle show progresses, however, the mystery builds and a nicely chilly atmosphere develops. The acting isn't spectacular; Foxler, Maury Sterling, and at times Brendon stand out in an otherwise merely adequate group. And there are times when their bickering attempts to solve the piece's "what's going on?" premise grow tiresome. But in the end, the deployed clues fit together cleverly , and the understated climax is truly eerie and effective. It's several significant flaws short of greatness, but in light of its limited means it's an earnest, interesting effort.