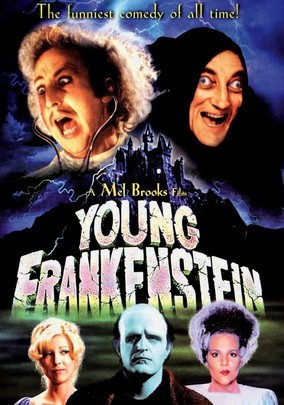 I've seen so many fragments of Young Frankenstein (1974) over the years that I think I just assumed I'd watched it. Even worse, because it's a Mel Brooks film, I even assumed I didn't like it much. But wow, based on last night's screening, I've either never seen it, or I just wasn't paying attention. It's brilliantly funny.
Gene Wilder stars as Dr. Frederick Frankenstein, an intense young scientist living in the shadow of his famously deranged grandfather, whose experiments terrorized the countryside. When Frankenstein inherits the family's Transylvania estate, he journeys to the property only to find himself—along with buxom young lab assistant Ilsa (Teri Garr) and bizarre manservant Igor (Marty Feldman)—drawn inexorably, hilariously into his family's horrific legacy.
Brooks' sense of humor is often too on-the-nose for my tastes, but Young Frankenstein distills the style to perfection. This is a fantastic creature-feature parody that craftily mimics classic film-making tropes, and soars on the strength of its superb performances. Wilder is a comic genius, but the support is also perfect, with the scene-stealing Feldman standing out, but also great performances from Garr, Madeline Kahn, Cloris Leachman, Kenneth Mars, and especially Peter Boyle (whose performance gets funnier the more I think about it). Highly recommended.